So, the curriculum calls for just octopus in 3 weeks, but we had so many things we wanted to learn more about from our week in Galveston, so we decided to move up our ocean animal study and do it now.
O is for Octopus and Ocean.
Language Arts
We continued to work on blending, after our amazing success from 2 weeks ago with Superman getting it really fast, he was just not wanting to and was goofing off. I'm trying to figure out what the fine line is there. Because I want him to learn that there are times it's not okay to goof off, but I also don't want to squash his love of learning.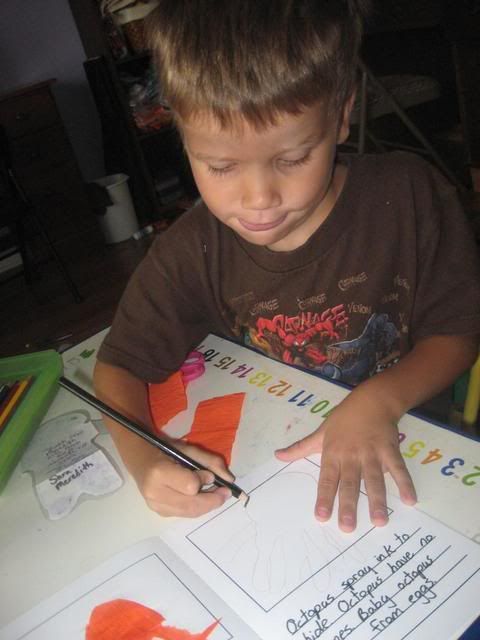 The kids had lots of fun "writing" their very own ocean animals book. I got some interesting facts that they dictated to me. Very interesting…….
We worked on handwriting a little with prehandwriting skills from Learning Page. This is also what we used for our math skills this week.
With all of the art projects we were doing for science I opted to not have the kids do a nursery rhyme/poem this week. It just seemed like then I was doing it for the sake of an activity rather than learning.
Math
We did lots of counting and we did some sorting into groups, does this belong, why or why not.
Social Studies
To get ready for our next step of "Me on the Map," I had them running all over taking pictures of the rooms upstairs. Which of course meant lots of pictures like this: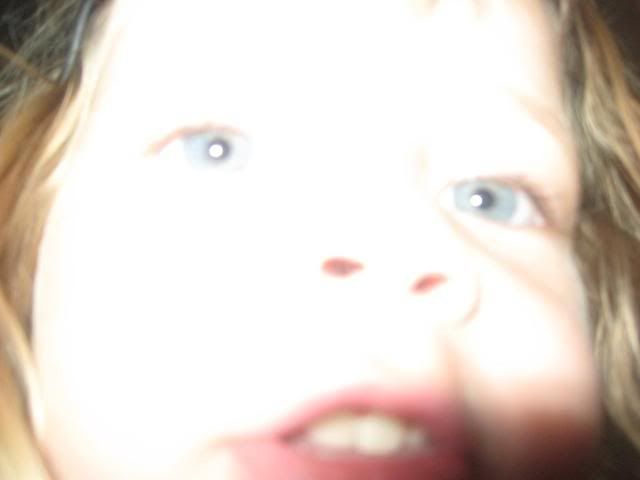 Or this:
Princess hasn't quite mastered the art of turning the camera around to face the right way. So, I get lots of pictures of her nostrils or her left eye…….
I've finally tracked down a map of our house, that's why this next step has taken so long. I couldn't find the house plans, and I REALLY didn't want to draw it out by myself.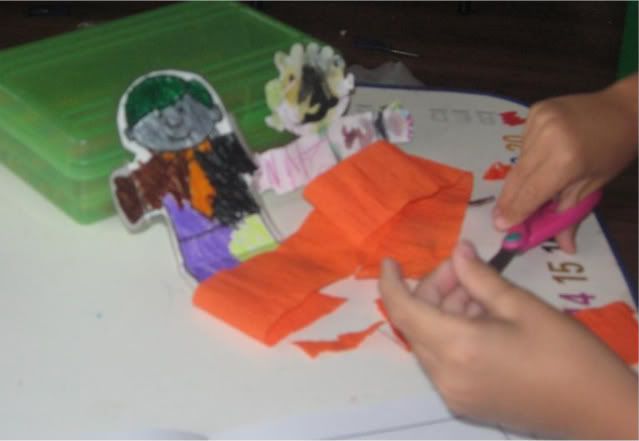 We also continued to talk about our visiting flat friends. I need to make books about these guys, so my kids can learn about where they're from. Sigh, more things to do.
Science
So……. We read a lot of books about fish and such this week. We then took what we learned and made it into our very own Ocean Animals Book.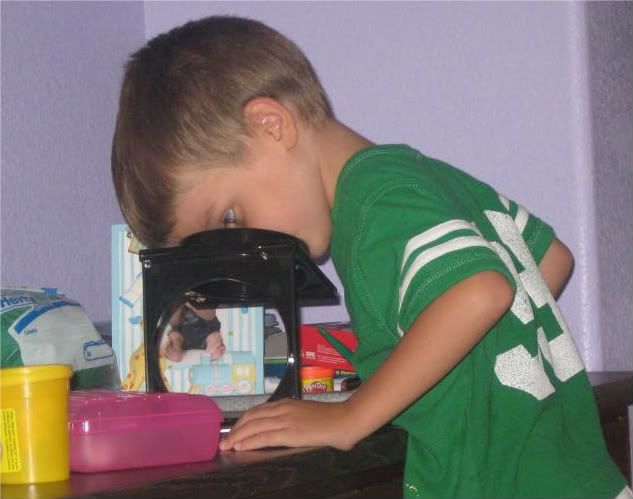 They also got to take their first stab at making observations on something. Which was really rather hilarious. Their level of observation right now is mainly limited to textures, but after reading the Starfish book they did right away run to their Starfish fight over who got to look through the magnifying glass and try to find the stomach on the bottom. So, progress.
Life School
I think I'll make this a regular part of what I talk about, because I've figured out a lot of my teaching style is capitalizing on what we're doing right now. So, here's what we learned about from life.
If you get too much rain your backyard floods.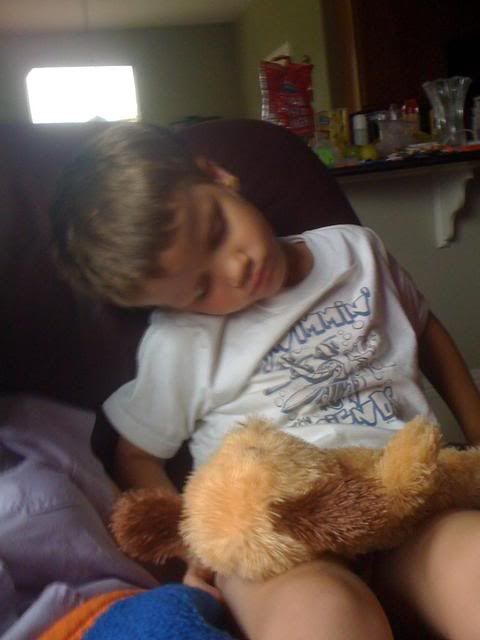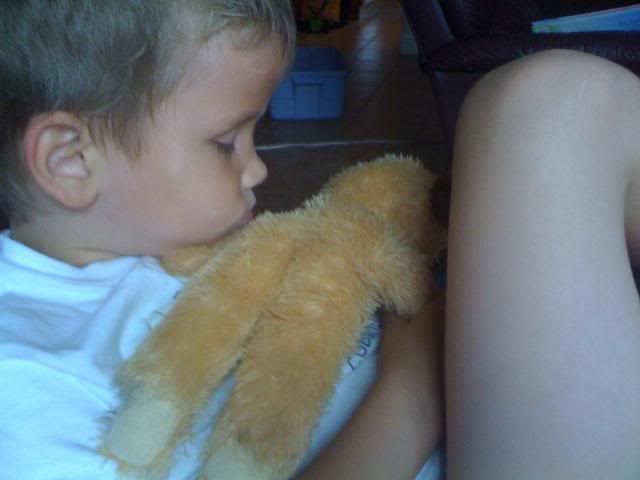 That we do still occasionally need to nap. I especially was laughing when Superman fell asleep on my lap (see top sleeping picture). He slept there for a good hour plus, as my legs slowly feel to sleep, and I kept thinking of all the things I needed to get done, but wasn't.
That flat friends like to learn too. And, you can't always have the crayon you want (poor Princess).
How much getting to drink tea means to my kids. Our tradition is to drink tea and have cheese, crackers, sausage, fruit, and the occasional cookies for lunch after church. I get to use my nice fancy Mother's Day present and we drink tea, and the kids get to use real tea cups. It makes them SOOOOOOOOOO happy, and they ask to do it all the time. So, as a special treat, since we couldn't go outside to play, they got to have tea for lunch with just Mommy.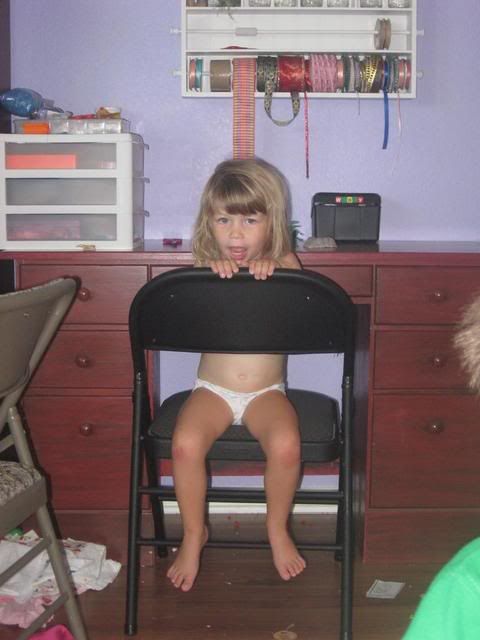 Princess continues to learn patience. She's really not very good at this.
Superman got to go with me all by himself to a local fair to promote community businesses. He loved picking up all sorts of prizes to share.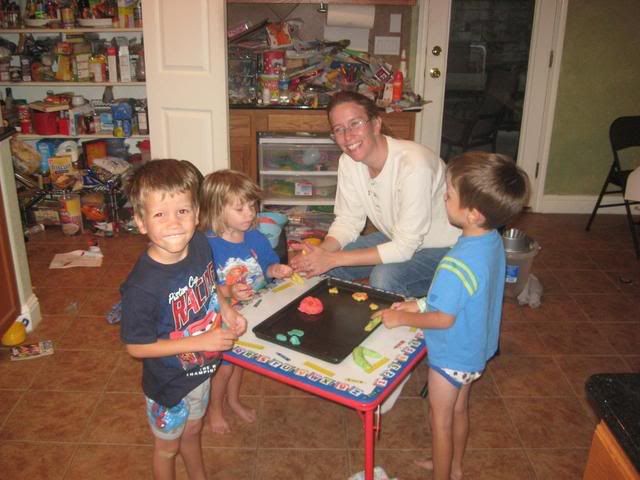 And we made playdough cookies. I'll hopefully get a chance to write a post with the recipe tomorrow.